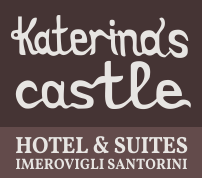 The rooms and suites, in the Santorini Hotel Katerina, have common verandas and terraces overlooking the Aegean sea, the volcano, the old castle Roca and the magic sunset of santorini island.

Santorini Hotel Katerina, promises you a great time surrounded by an enchanting atmosphere, on the top of Imerovigli complex of ten (10) traditional rooms, in the rock.

Katerina's Castle is one of the first hotel in Imerovigli!